Spring Pawpaw Propagation Workshop
May 5, 2019 @ 1:30 pm

-

3:30 pm

$10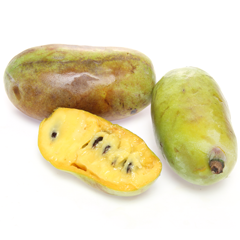 [cmsmasters_row][cmsmasters_column data_width="1/1″][cmsmasters_text]
Visit Dr. Charlie West at West Farm Nursery and learn some basic plant propagation techniques specifically applicable to the North American Pawpaw.  Techniques to be demonstrated and discussed will be: Hand Pollination, Seed Germination, and Basic Grafting procedures.
One of the problems pawpaw enthusiasts often encounter is a lack of fruit set following flowering.  This is often due to a lack of natural pollination vectors.  Early May is the prefect time to learn firsthand how to hand pollinate pawpaws flowers, and thus hopefully increase fruit production
Correct technique and some perseverance are needed to successfully germinate pawpaw seeds. Technique and germinating seeds in various stages will be demonstrated and discussed.  Seeds will be given out for home germination to those who want them.
Most quality fruit trees, including pawpaws, are a result of grafting desirable scionwoods onto compatible rootstocks. Basic grafting techniques and limitations will be demonstrated and discussed.
Prior registration required, $10 for NOFA members and $20 for non-members.  See the many benefits of NOFA membership HERE.
[/cmsmasters_text][/cmsmasters_column][/cmsmasters_row][cmsmasters_row data_padding_bottom="50″ data_padding_top="0″ data_bg_parallax_ratio="0.5″ data_bg_size="cover" data_bg_attachment="scroll" data_bg_repeat="no-repeat" data_bg_position="top center" data_color="default" data_bot_style="default" data_top_style="default" data_padding_right="3″ data_padding_left="3″ data_width="boxed"][cmsmasters_column data_width="1/1″][cmsmasters_button button_link="https://nofanj.z2systems.com/eventReg.jsp?event=3482&" button_target="self" button_text_align="center" button_font_weight="normal" button_font_style="normal" button_border_style="solid" animation_delay="0″]Register[/cmsmasters_button][/cmsmasters_column][/cmsmasters_row]