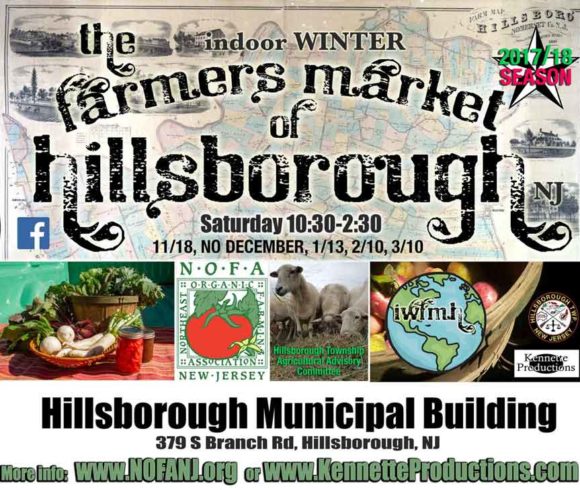 The Second Annual Winter Farm Market of Hillsborough brings live music, local farms, and neighboring businesses together under one roof providing a venue during the off-season.
Market Mission Statement: The Indoor Winter Farmers Market of Hillsborough believes in the importance of supporting our local food sources and businesses year round. We desire to make local, sustainably grown food available to all in our community. We seek to develop a market consisting of local farms and artisans that not only provide quality goods to our general population but also enables families enrolled in the food bank program to be better served and nutritionally educated. The market aims to: provide community outreach through education, engage our community with their local food system, give farmers and local artisans a winter outlet for their products, and provide assistance to the Hillsborough food bank.
This season's vendors include: Martennette Farms, NOFA-NJ, CALDO Hot Sauce/ Hot Sauce 4 Good, Dogwood Farms, Norz Hill Farm & Market, Seventy5 Design, Maha Premium Granola, Cherry Grove Farm, Stonybrook Meadows, Manville Pastry Shoppe, Zerta's Kitchen, Local 130 Seafood, Kaya Jar, doTERRA Essential Oils, Chevere Latin Food Lovers, Picklelicious, and many more!