5/24, NOFA NJ Taco Tuesday (7-10 PM) (Yard Tacos in High Bridge): Kick off the season with NOFA NJ for a taco Tuesday to remember! FREE to NOFA MEMBERS, Chefs and Farmers. (Not a member? You can become a member online or at the door) This is a BYOB event (packaged goods can be purchased next door at a discounted price). Bring your good vibes and your dancing shoes as we celebrate our community's passion for food, farming and friendship and we unveil our monthly food event series!
5/25, NOFA NJ Monthly Organic Open House (Virtual) (8:30 AM): NOFA-NJ's Monthly Organic Open Houses are free events designed to offer an open, informal space for the community to gather, share knowledge and resources, solicit advice and suggestions from fellow farmers, and discuss relevant news and community updates. The open houses also serve to support NOFA NJ JourneyPerson Program throughout the season as an opportunity for JourneyPersons and their Farmer-Mentors to check in and share their experiences with the NOFA NJ community. Register Here
6/11, Poultry Processing Class (10AM – 12:30PM): Join NOFA NJ and Matt from Hard Cider Homestead in a comprehensive class on poultry processing. Each participant has the option of experiencing the steps necessary to take a living mature meat chicken, into a processing ready to eat product, and each participant can return home with their own processed meat bird, having gained an intimate knowledge of what is required in order to process your own meat birds. Register Here

Flocktown Farm in Pittstown, NJ is generously donating 10% of new CSA membership sales to NOFA NJ when you use the code NOFA2022. If you are looking for an NJ CSA offering home delivery, be sure to use the code and support NOFA NJ with your purchase. Thanks Flocktown! Learn More Here
Foodshed Alliance has launched an app for their LocalShare program! Sign up for volunteer opportunities, register for gleanings, share images and stories and stay connected with the community and LocalShare staff! Learn More Here
USDA's Organic Certification Cost Share Program (OCCSP) and Organic and Transitional Education and Certification Program (OTECP) signup period is now open! OCCSP helps producers and handlers cover the cost of organic certification, along with other related expenses. OTECP provides up to $20 Million to reimburse agricultural producers and handlers who are certified organic and crop and livestock producers who are transitioning to organic for eligible expenses for eligible expenses incurred during FY 2020, 2021, and 2022. The deadline for OCCSP and OTECP is 10/31/2022. Learn More Here
Rutgers University Office of Continuing Education is offering a Grape and Wine Science Certificate Program! This program will provide foundational knowledge in grape growing, wine making, and business operations – following the path of grapes from the field to the winery to the glass. Students will gain competency in all three areas to prepare them for positions in the industry and will feature 4 weeks of classroom instruction complemented by hands-on workshops. Students will then complete a 4-week winery internship where they can put their new knowledge and skills into practice. Apply by July 1st.
Rutgers Cooperative Extension has launched the "Homesteading Academy", a monthly lunchtime webinar series for anyone curious about home-grown sustenance and self-sufficiency. Have a topic idea? Need help with Zoom? Send all your questions to Kate Brown, Program Associate in Commercial Agriculture with Rutgers Cooperative Extension of Burlington County: kbrown@njaes.rutgers.edu or 609-265-5050. Their first webinar will be held June 14 from 12 PM – 1 PM and the topic is Preventative Practices to Support the Health of Small-Scale Poultry with Dr. Linda Detwiler from the USDA-APHIS. Register Here
Further, join Rutgers CE for an educational tour of the orchards at the Rutgers Snyder Research and Extension Farm in Pittstown, NJ. Attendees will meet up with Hunterdon County Extension Agent Megan Muehlbauer for a wagon ride up to the orchards and subsequent discussion of orchard site selection, pruning/training, matching rootstock/variety with appropriate production systems, pest management approaches, fruit thinning, and more. The tour is Wednesday, June 15 from 5:30-7:30 PM and is limited to 35 attendees. Register by emailing homesteading.njaes.rutgers.edu 
PennState Extension is holding an online webinar, Equipment for the Value-Added Dairy Foods Processor. Event hosts discuss important criteria for processing equipment specification, selection, and procurement. Considerations will include new versus pre-owned, materials of construction, key features to reduce the cost of ownership, and the importance of product contact surface features including weld attributes. This event is free and will take place on June 9 12 – 1 PM. Register Here
PennState Extension is offering Animal Welfare Officer Certification Training, a research-based interactive training on proven animal handling and slaughterhouse practices in a practical hands-on format focusing on beef, sheep, and swine. The course is taught by a leading specialist from the University of Bristol (UK) and Penn State Extension professionals. June 13-14 in State College, PA Register Here

Reed's Farm in Egg Harbor Township is seeking a Farm Manager to oversee farm crew, volunteers, and all aspects of farm production. A minimum of 3 seasons of experience on a production farm is preferred. View the Flyer Here
Double Brook Farm is seeking a Livestock Manager! They are looking for someone with a love of animals who is passionate about sustainable farming with a solid knowledge of farm equipment. 1-2 years livestock farming is highly preferred. DBF is a sustainable livestock farm located on over 800 acres in Hopewell, NJ, raising cattle, sheep, pigs, chickens, turkeys, goats, and ducks. Learn More Here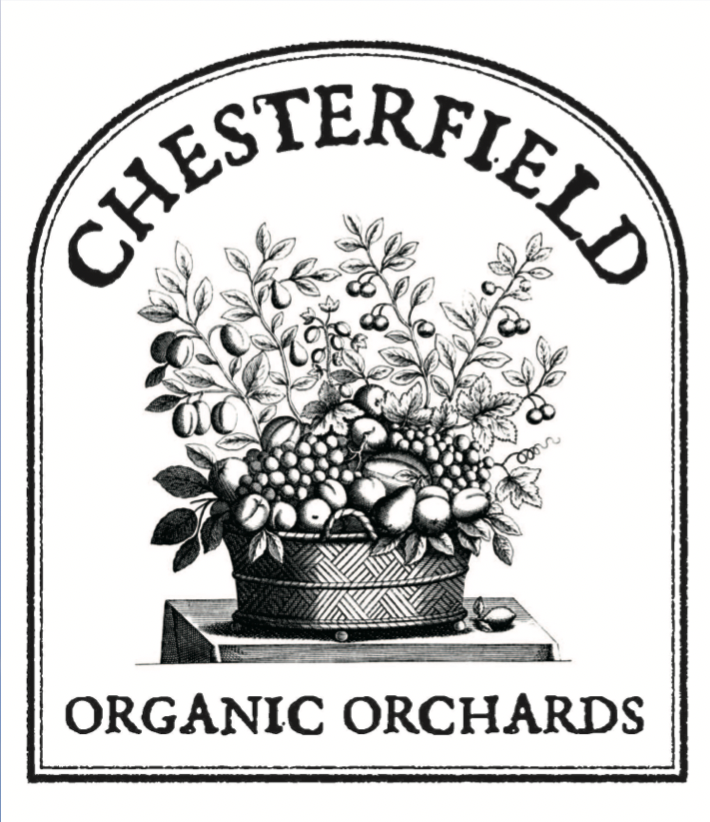 Chesterfield Organic Orchards
James Kinsel began farming organically in the mid-1980s.  Most of those years he focused on growing the finest quality, best tasting and affordable certified organic produce available for a large Community-Supported Agriculture program based on the outskirts of Princeton, NJ, called Honey Brook Organic Farm CSA. In the mid-2000s, his now-wife Sherry Dudas joined him in his farming endeavor.
In 2021, Jim and Sherry discontinued their CSA program to focus on growing certified organic fruits for pick-your-own and wholesale sales. For 2022, the newly-named Chesterfield Organic Orchards is offering pick-your-own (pyo) fruit crops to the public in Pennington and Chesterfield NJ. This is the first time the farm will be offering their certified organic strawberries, figs, persimmons, pawpaws, apples and Chinese chestnuts as pick-your-own crops to the public and they're really excited to offer these fruits and nuts, especially the figs, since they are so popular with their NJ-based customers. Seems everyone knows someone who grew figs in their backyard at some point in their lives!
Harvested asparagus will be for sale during a portion of the strawberry season. Jim is also adding heirloom dried beans to his crop plan for this season.  They will be for sale at both the Chesterfield and Pennington farms as a retail crop. The farm will also host farm events occasionally.PYO organic strawberries will be available until early June. Support Local Farms!!