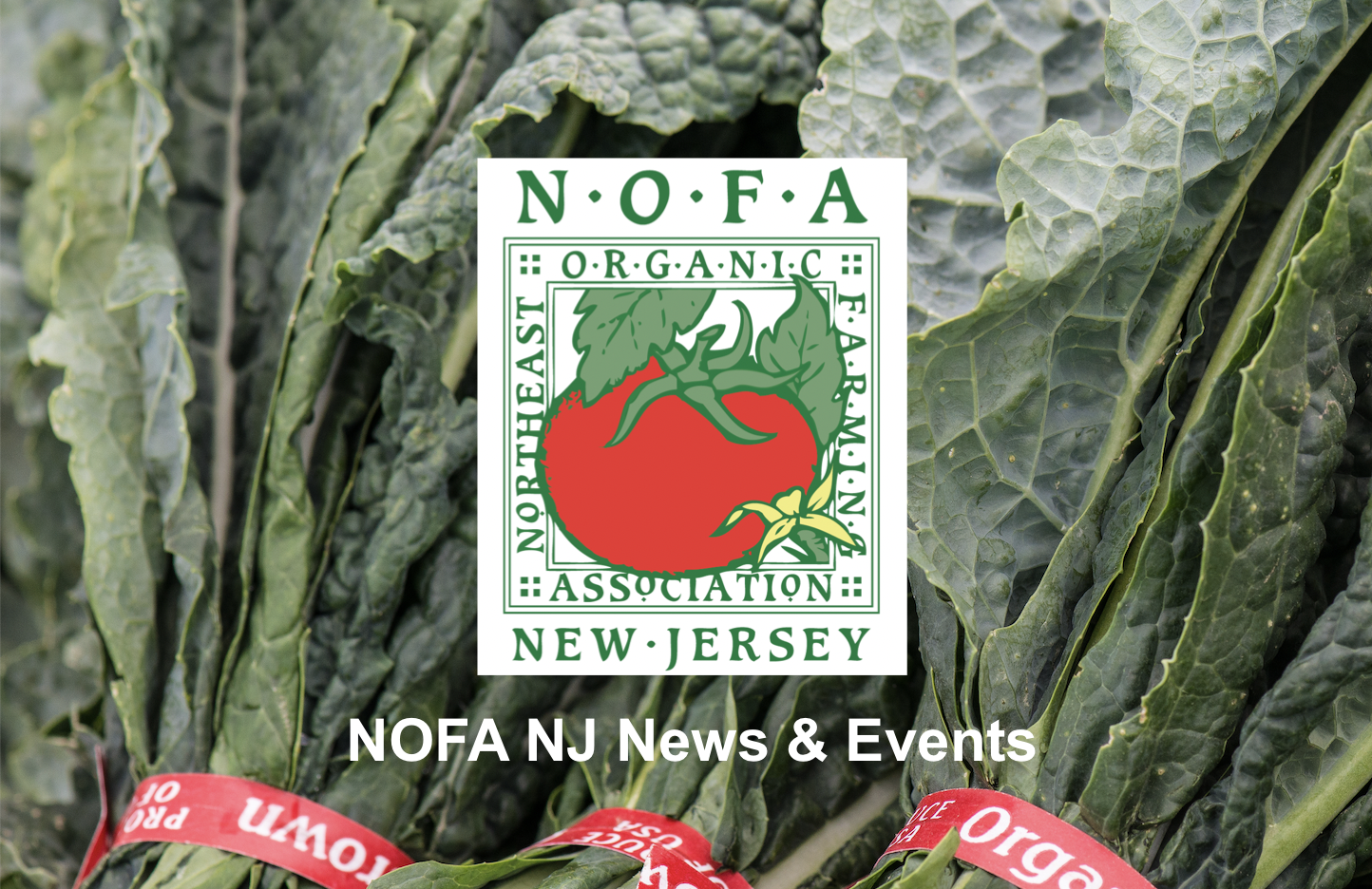 6/11, Poultry Processing Class (10AM – 12:30PM): Join NOFA NJ and Matt from Hard Cider Homestead in a comprehensive class on poultry processing. Each participant has the option of experiencing the steps necessary to take a living mature meat chicken, into a processing ready to eat product, and each participant can return home with their own processed meat bird, having gained an intimate knowledge of what is required in order to process your own meat birds. Register Here
6/18, Gorgeous Goat Farm Tour & Cheese Tasting (3-5 PM): Join NOFA NJ for a farm tour & cheese tasting at Gorgeous Goat Creamery in Stockton, NJ! Gorgeous Goat produces pasteurized goat's milk in glass bottles, farmstead cheeses (including fresh goat cheese such as chèvre and feta), goat's milk yogurt, whey, buttermilk, and small-batch, handcrafted goats milk soap. Located on 17 wooded acres, Gorgeous Goat's focus on regenerative forestry and land-management practices also allows for the production of milled lumber, timber fuel, and pottery.
Farmers Matt & Maria will take guests on a tour from goat to glass and will discuss their milking, processing, licensing, wastewater handling, agritourism activities, and more. The tour will include a sampling and side-by-side comparison of Gorgeous Goat products versus store-bought brands. Register Here
6/25, Homesteading Workshop (4-7PM): Join NOFA NJ for a tour of two homesteading operations: Wildflower Farm in Pennington, NJ and Firefly Homestead in Hopewell, NJ. Both homesteads raise crops and livestock and offer a range of engagements throughout the season. The tour will move from one property to the next, ending with food and beverages for a social hour. Register Here

Chesterfield Organic Orchards NJ Farm Bureau is co-hosting an on-farm demonstration of windrow (a.k.a. aerated static pile – ASP) composting next month in Chesterfield Township. Workshop participants will learn how to safely and efficiently compost manure, wood chips and/or tree leaves. ASP optimizes the composting process; can be a cost-saving alternative to expensive commercial fertilizers. The demonstration place at Chesterfield Organic Orchards on June 28. Supported with a SARE grant with assistance from NJDA and Rutgers Cooperative Extension. More details to follow; contact NJFB for more information.
Hunterdon County Farmland Plan Update Hunterdon County is updating its 2008 Comprehensive Farmland Preservation Plan in partnership with The Land Conservancy of New Jersey. This plan will provide the structure and goals for continuing farmland preservation. We invite you to join us for a virtual public meeting on June 8 at 12PM to learn more about the Hunterdon County Farmland Plan Update. Email cadb@co.hunterdon.nj.us with any questions. View the Flyer
USDA's Organic Certification Cost Share Program (OCCSP) and Organic and Transitional Education and Certification Program (OTECP) signup period is now open! OCCSP helps producers and handlers cover the cost of organic certification, along with other related expenses. OTECP provides up to $20 Million to reimburse agricultural producers and handlers who are certified organic and crop and livestock producers who are transitioning to organic for eligible expenses for eligible expenses incurred during FY 2020, 2021, and 2022. The deadline for OCCSP and OTECP is 10/31/2022. Learn More Here
Sourland Conservancy's Sourland Mountain Festival returns on July 23 in Ringoes, New Jersey at Unionville Vineyards. It's going to be a fun day in the beautiful hills of Central Jersey, so grab your lawn chairs and family and come dance with us. Tickets are on sale now Buy Tickets
PennState Extension is holding an online webinar, Equipment for the Value-Added Dairy Foods Processor. Event hosts discuss important criteria for processing equipment specification, selection, and procurement. Considerations will include new versus pre-owned, materials of construction, key features to reduce the cost of ownership, and the importance of product contact surface features including weld attributes. This event is free and will take place on June 9, 12 – 1 PM. Register Here

Foodshed Alliance is hiring for two grant-funded positions: Agricultural Conservation Specialist and Outreach Consultant. Find More Information Here
Abe's Acres is seeking a Crew Member to join their team immediately! Abe's Acres is a market-garden-scale sustainable farm in Hightstown, NJ, producing a variety of high-quality vegetables, niche crops and value-added items. Learn More Here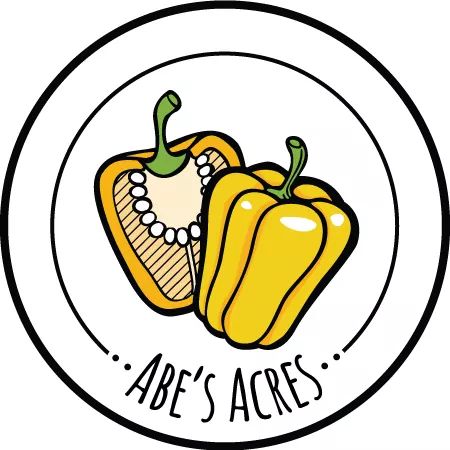 Check out Abe's Acres Website, Facebook & Instagram
Abe's Acres Farm
Carrying on family traditions often involve holidays, recipes, and the like. For Farmer Gabe Siciliano of Abe's Acres Farm, upholding tradition has also included commitment to a career in food and farming and the responsible stewardship of family land.
Gabe's Great-Grandfather Abe emigrated to the U.S. from Russia in the 1800's. At the time, violence and rioting targeted against Jewish populations (known as the pogroms) led many to flee their home and seek safety elsewhere. Gabe writes "As a Jewish man, he hadn't been allowed to own property, so he wasn't a landowner, and he hadn't been a farmer. He started a dry goods store in Brooklyn when he came to this country. But what he really wanted to do-farm his own land-had been denied to him, so he moved to Hightstown with his wife and three young daughters, bought the land, and the family has been farming it in one way or another since. The farm is named in his memory".
On the farm, Gabe raises a variety of mixed organic vegetables, niche fruits and herbs, and pastured poultry. Abe's Acres offers community-driven CSA memberships that include local products from other farms (cheese, oats, etc..) and participates in the Yardley, Bordentown, and Asbury Park Farmers Markets. Gabe's operation is impressive, the principles driving his success are more than inspirational, and the pickles and hot sauce hard to beat!
Support Local Farms!!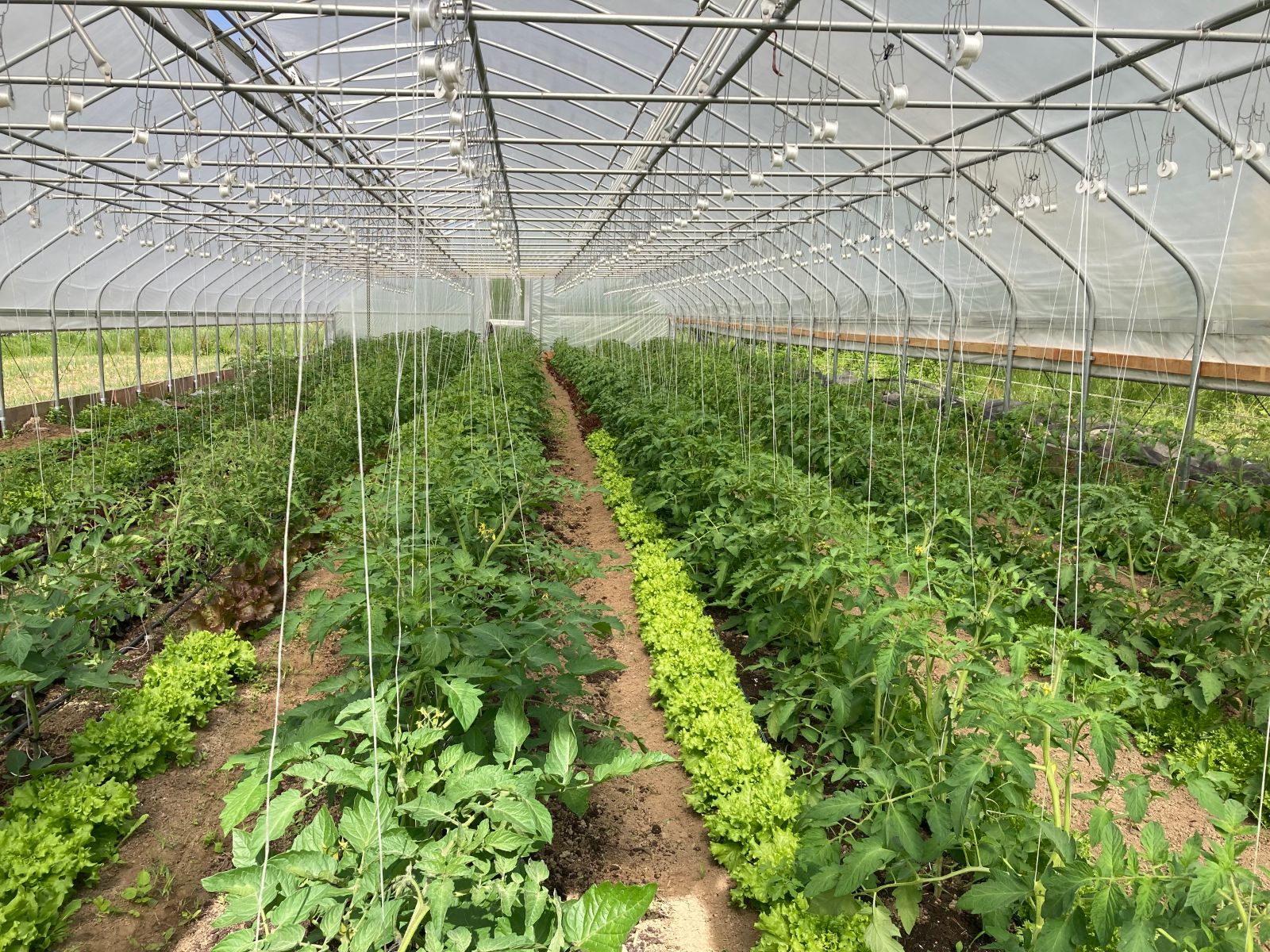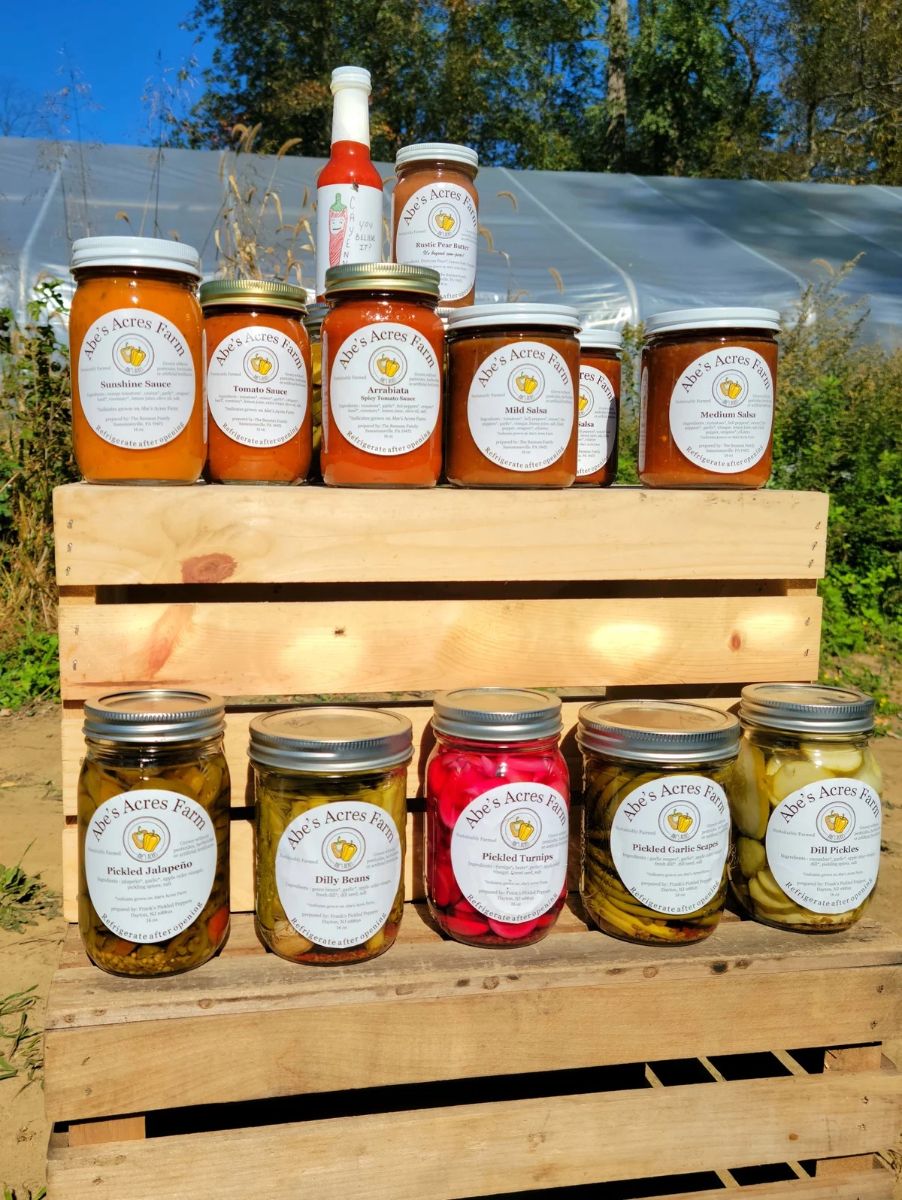 Gabe's High Tunnel bursting with tomatoes and lettuce!/Value Added Items made from Abe's Acres produce.