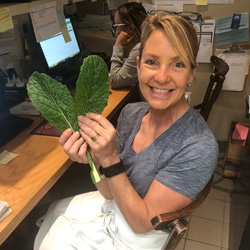 Kim Rizk, Treasurer
Owner, Jammin' Crepes
Kim Rizk is a native of Bucks County where she grew on a farm and in the hospitality business. Kim studied art, language and cooking in Northern Italy and Southern France. During a 12-year tenure at the Hay Day Country Markets, a Connecticut based group of specialty farmers markets, Kim managed the bakery and cheese departments of their flagship Westport, CT store, developed product training programs and managed their newest and largest store in Ridgefield, CT. During this time, Kim also developed many of the stores signature recipes and co-authored their markets monthly newsletter, The Hay Day Rural Times. In 1998 Kim authored the Hay Day Country Market Cookbook by Workman Publishing.
Princeton, New Jersey has been Kim's home for over 20 years where she has been a contributing writer for New Jersey Countryside Magazine; a member of the Princeton School Garden Cooperative; a supporter of The New Jersey Conservation Foundation and a co-chair of the conservation committee for the Garden Club of Princeton.
In 2012, Kim co-authored a publication called "The Farm Markets of Central New Jersey". A comprehensive 80-page guide to where to by locally grown foods in Central New Jersey, Proceeds form the sale of the book where provided to The New Jersey Farm to School Network.
In addition, Kim has spent the past 18 years working as a residential real estate agent with Callaway Henderson Sotheby's. In this time, Kim has provided over 200 families the absolute highest standard of service, resulting in over $200 million in sales.
In 2014, Kim created and opened a shop & café right in the heart of Princeton, affording her the opportunity for being involved in the business community and giving back to her town in a meaningful way. Jammin' Crepes is a celebration of local, regional farms wrapped in a crepe with a focus on sustainable food preparation & service practices. The cafes signature farm-to-table crepes feature the restaurants house-made micro-batch preserves, pickles & jams. Kim completed her Master Food Preserver certification from Cornell's Agricultural Cooperative Extension in 2011.