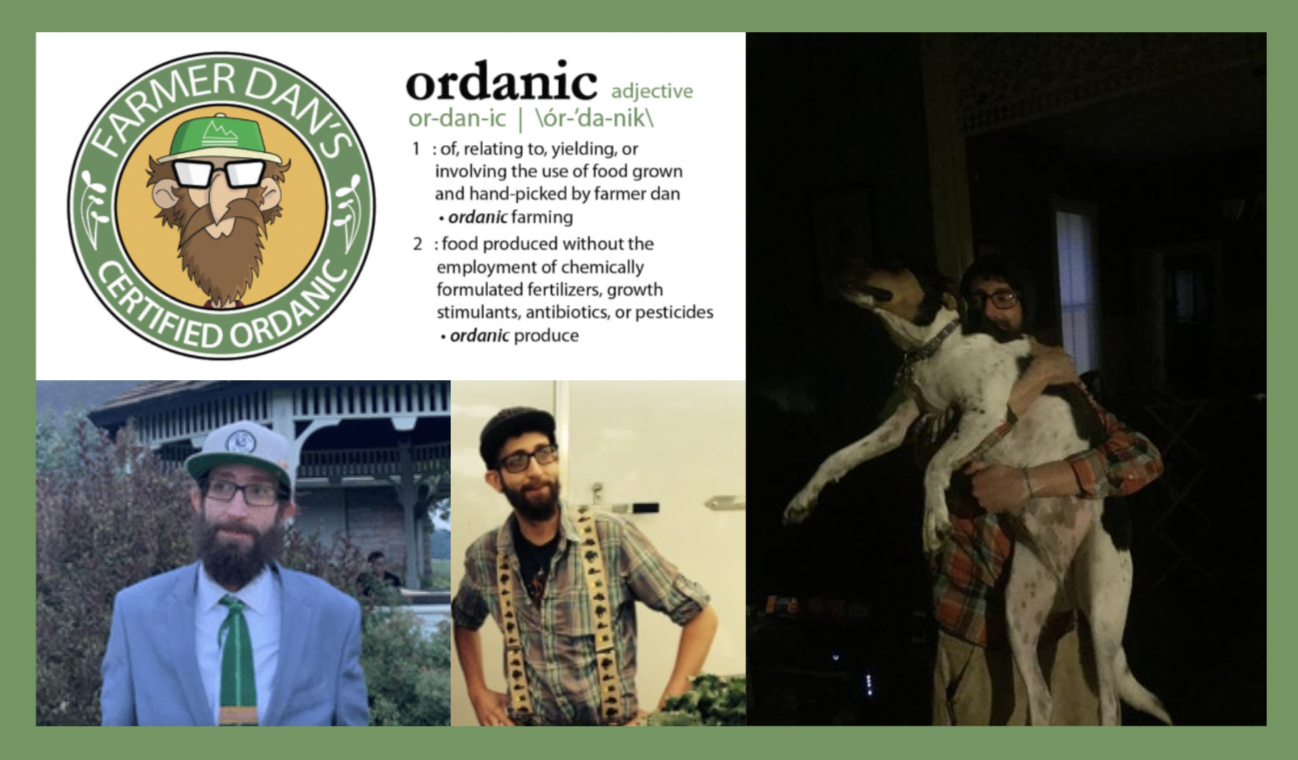 Farmer Dan… where to even begin?
Dan Rovensky leveled up from this world on Monday last week, leaving behind a vast and diverse community that spreads across the state, country, and probably beyond, leaving behind plenty of memories, stories, and laughs, leaving behind dreams of farming and feeding others quirky, little-known crops and microgreens. 
How does one measure impact on a community? There's no set of numbers or data points that can show just how much one has given to those around them. In Dan's case, it can be measured by the 150+ crowd of family, friends, farmers, and other community members that showed up on Friday to pay their respects. It can be seen in the relationships and connections he created between friends and friend groups, bringing various people he loved together, always with an extra seat at the table. It's felt when the most random of acquaintances end up having known Dan, or at least having heard of him and recognizing that beard and grin.
Dan was frustrating, to say the least, but his stubbornness was often benevolent: he wouldn't give up on you, he wouldn't let you give up on your dreams, and he was always supporting and encouraging you to go for it. Dan knew I had a long-term goal of promoting a truly secure NJ food system, and he knew I was hungry to support for my food and farmer friends in a bigger way. Long before I came on board with NOFA NJ, he suggested that I check out their open E.D. position. I didn't think I was ready for such a role, yet he was insistent that I should aim high. Four months and a few surprises later… 
Beyond giving, Dan was brimming with compassion for his fellow humans. He was the kind of person who would seek out a loner and make them feel welcome. He was the kind of person who would share half his lunch if you forgot yours, even if his was only a can of sardines and a handful of micros. He gave gifts often, and those gifts took the form of tools, time, food, kind words, and lots of love. His giving spirit will always be remembered, along with constant hijinks (how many times can one person get stuck on a lawnmower or tangled in twine, really?). 
A lesson learned from Dan's passing: many of us are struggling, sometimes visible, sometimes in secret. Sometimes, we know someone is struggling but don't realize how bad it actually is or if it's getting worse. Especially in farming, which can be so isolating, financially insecure, and physically/mentally/emotionally draining, we should all take an extra moment to make sure everyone in our community is getting the love and support they need. If you or someone you know need a bit of extra help, or a connection to helpful resources, or even just need a willing ear and a support circle, please don't hesitate to give NOFA NJ a call. Take a look at NOFA NJ's page for Farmer Health Resources, and stay tuned as we explore our role in supporting the community in this way.
Thank you Dan-O, for what you've given to all of us; you will be loved, missed, and never forgotten. May you Rest In Peace… wherever you are, I'm sure everyone knows by now that You Cut the Grass! 🙂