PLEASE NOTE THAT REGISTRATION FOR EVENTS CLOSES THE NIGHT BEFORE THE EVENT.
You will be sent a confirmation with registration and the link the day of the event.
Organic Open House
The Organic Open House is a monthly setting, that we are committed to hosting over the long term.  This months guests are Dr. Andy Wyenandt is an Extension Specialist in Vegetable Pathology, Dr. Kristian Holmstrom Research Project Coordinator, Pest Management, and Dr. Joseph Ingerson-Mahar, Research Project Coordinator, Pest Management and the subject will be Pests and Disease control.  Best case scenario would be to hear from everyone one pest or disease concern, that we could ask for NJ Coop Extension for Organic Recomendations for.  If you have absolutely anything, please text me a photo, and any question, so I can "prime the expert". The Open Houses are useful to provide a space for NOFANJ members to meet and talk.  The session is recorded and will be accessible on NOFANJ YouTube channel.
Farmer and Grower Series: Session 3 Foraging
Tama Matsuoka Wong is a forager, weed eater, meadow doctor , lawyer and mother of three. For longtime readers of Serious Eats, Tama Matsuoka Wong may need little introduction. Her 2013–2014 Foraged Flavor column offered up sage advice on how to forage and use, among other things, wild sumac, pine, and juniper berries, and her book of the same name—which she cowrote with Eddy Leroux, the chef de cuisine at Daniel Boulud's flagship restaurant Daniel—was nominated for a James Beard Award in 2013. Wong still serves as the forager for Daniel and supplies other restaurants in New York City, including Agern, Gramercy Tavern, and Dirt Candy, as well as some retail outlets, like FreshDirect and Eataly.
We will hunt for the following nutritious, non-native weeds in the old farm fields. We will learn foraging harvest methods and the some of the best ways to prepare them deliciously.
lambsquarters
galinsoga
purslane
Bags supplied. Please bring your own clippers.
Loving and Cooking with your CSA: Jeff's Organics
Jeff and Karley are a hardworking husband and wife team who live, eat and breath farming! Jeff's Organic Produce takes part in local Farmers' Markets throughout the year. Check out our schedule and a list of Organic Produce you can find at our stand.
NOFA-NJ, The Suppers Program, and Jammin' Crepes are working together to offer a Cooking class which celebrates the NJ Organic CSA and seven NJ farms who have a CSA program.  Every second Thursday of the month, Tony Kennette will introduce you to another NJ Organic farm, and Kim Rizk of Jammin' Crepes will cook from the farms CSA box. The charge for this event is $15 for one class or $60 for the whole series.
July 8th: Jeff's Organics
August 12th: Ironbound Farm
September 9th: Genesis Farm
October 14th Cherry Grove Farm
https://nofasummerconference.org/
https://nofanj.org/event/monthly-grower-farmer-speaker-series-doug-tallamy-author-of-natures-best-hope/https://nofanj.org/event/summer-solstice-celebration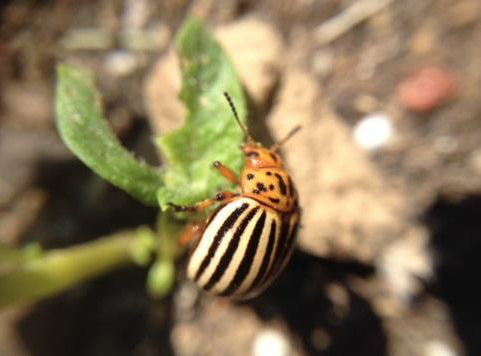 Thanks to the Rutger's Master Gardener IPM Team Report for sharing their third report. Pest season is here! Also, if you have missed it, this report from NPR on this year's Cicadas
read more
EDUCATION
Support NJ Organic Farmers by providing technical advice, educational opportunities and social engagement to build community.
COMMUNITY
Connect our Food Community for the Entire Organic Eco System – Restaurants, Consumers, Farmers, Stores, Markets Businesses, Educators – Urban, Suburban and Rural
CERTIFICATION
Advocate for Organic Certification and Support Organic Management Practices.
LOCAL ORGANIC
Build the Local Organic Food System, Primarily Nurturing Farms, and Secondarily All Growers, so NJ can provide food for NJ.
POLICY
Advocate for Policy that Supports Organic Farming
We do not inherit the Earth from our ancestors; we borrow it from our children.