NOFA NJ's programs connect NJ farmers & growers to resources throughout the Garden State. Our programs provide mentorship opportunities, educational workshops, and community-building events to improve the resiliency of the local food system. We work hand-in-hand with local, regional, and national partners to support farms, gardens, and food businesses of all types.
This 1-year program is designed to fill the gap between apprenticeship and independent farmer. By providing support, resources and opportunities to new farmers, we hope to further develop the skills they need to farm independently and successfully. This program provides hands-on support, training, and mentorship for those who are serious about pursuing careers in organic farming in New Jersey.
Is a career in agriculture right for you? The course's goal is to help aspiring farmers learn what it will require to start and manage their own profitable agricultural enterprise. Participants explore current opportunities in small-scale agriculture, explore objectives, assess personal skills and financial resources, conduct preliminary market research, and develop an action plan for pursuing their interests in food and farming.
NOFA NJ coordinates bulk order purchasing and distribution of supplies, reducing costs for our member farmers and gardeners. Products include common farm necessities such as compost, potting soil, chicken feed, fertilizer, and more.
NOFA-NJ Farm Tours & Workshops are designed to give the community a 'behind the scenes' look at how food is produced on farms in their region. The tours are also a celebration of the bounty and diversity of the food products our farmers are growing and selling across the Garden State.
Monthly Organic Open Houses are designed to offer an open, informal space for the community to gather, share knowledge and resources, solicit advice and suggestions from fellow farmers, and discuss relevant news and community updates. The open houses also serve to support NOFA NJ JourneyPerson Program throughout the season as an opportunity for JourneyPersons and their Farmer-Mentors to check in and share their experiences with the NOFA NJ community.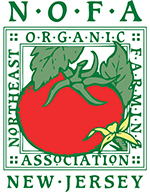 Contact Information:
Phone: (908) 371-1111
Email: nofainfo@nofanj.org
Mailing Address:
386 Rock Road East, Lambertville, NJ 08530