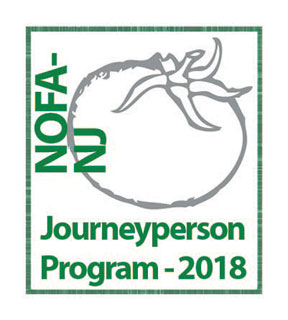 Get started in small-scale organic farming through NOFA-NJ's Journeyperson Training Program
Mentorship
Technical Assistance
Business Planning
Help Getting Established
NOFA-NJ's Journeyperson Program provides hands-on support, training, and mentorship for people who are serious about pursuing careers in organic farming in New Jersey.
The program is designed to fill the gap between apprenticeship and independent farmer, and to provide the resources and opportunities to prospective new farmers who have completed an apprenticeship or have farmed at least two years, to further develop the skills they need to farm independently and successfully. The program is largely shaped by the farming interests and goals of the individual participants, and it is intended to enable aspiring new farmers to gain advanced farming experience, skill, and perspective in a relatively safe and supportive environment. Journeypeople also benefit from participating in a supportive network of like-minded, motivated people.
Qualifications for Journeyperson candidates:
A minimum of two years of farming experience
At least one calendar year of farm experience in the Mid-Atlantic region
A demonstrated commitment to farming in NJ
Measureable contributions to NJ's agricultural economy
Production goals of feeding their community and region
A demonstrated commitment to regenerative practices, including but not limited to organic practices
The NOFA-NJ Journeyperson Program is best suited for farms that have:
Secure medium to long-term land tenure (proof of contract for land lease or land sale)
A focus on livestock and/or crop production for direct-to-consumer and wholesale markets
An established farm business
A need for support to refine their vision and apply whole-farm planning practices
Time to fully utilize the resources of the program
The program will provide:
A one- year mentor, compensated by NOFA-NJ
A stipend of $500 to be spent on NOFA classes, workshops, or conferences
A scholarship for "Tilling The Soil Of Opportunity" during the JP year
3 educational meet-ups during the year with speaker and networking time.
Responsibilities of the Journeyperson include:
Provide regular, timely updates about farm progress
Provide a photo and biography for use in program promotion, no later than April 1st each year
Choose and agree to work with a mentor
Submit completed mentor agreement no later than June 1 of each year
Utilize the provided education stipend to further farm goals, and submit reports
Complete year-end self-evaluations
Give back to the NOFA-NJ community through promotion of the program and teaching opportunities;
Employ regenerative practices, including but not limited to organic production.
The responsibilities for the mentor include:
A minimum of 10 hours of interaction with JP, including two farm visits
Monthly online evaluation form
Keep a logbook to document interactions with JP
The application deadline for our 2018 class is March 1, 2018. You can download a Word version of the application HERE.  A committee will review the applications, and the finalists will be given an interview, which will serve to personally evaluate the candidate as well as to discuss the farm plan and potential mentors who are not currently in the candidate's network. Decisions will be made no later than April 1, 2018.